Buddhism in the Time of COVID 
කෝවිඩ් කාලේ බුදු දහම 
 A Virtual Conference – අතථ්‍ය සම්මන්ත්‍රණයක්
April 10 – 12, 2020, Online
An international online conference exploring effects, affects and aspects of the COVID-19 pandemic through the lenses of Buddhist philosophy, psychology, practice and history.
 බෞද්ධ දර්ශනය, මනෝ විද්‍යාව, භාවනාව සහ ඉතිහාසය යන කාච හරහා COVID-19 වසංගතයේ බලපෑම් ගවේෂණය කරන ජාත්‍යන්තර මාර්ගගත (online) ද්විභාෂා සමුළුවක්.
All the talks and panel recordings are now available on

Dhammanet

 

YouTube Channel.
Session A1, English, Friday, April 10

8:00AM-10:00AM
Keynote by Bhante Henepola Gunaratana
Ayya Yeshe (Moderator)
Ayya Soma
Bhante Suddhaso
Ven Saranapala
Session A2, English, Saturday, April 11

8:00AM-10:00AM
Giles Barton (Moderator)
Ajahn Brahmali
Ayya Tataloka
Ven Dr Premaratna
Session A3, English, Sunday, April 12

8:00AM-10:00AM
Bhante Sujato (Moderator/Speaker)
Heenkumbure Kondanna thero
Ven Sutadhara
*All times are in Australian Eastern Standard (AEST) time
Session B1, English, Friday, April 10

8:00PM-10:00PM
Ayya Yeshe (Moderator)
Ven Galkande Dhammananda
Sarah Napthali
Bhante Sujato
Session B2, English, Saturday, April 11

8:00PM-10:00PM
Giles Barton (Moderator)
Ven Sudhamma
Jeni Thornley
Ayya Phalanani
සිංහල වැඩසටහන 1

අප්‍රේල් 12, ඉරිදා

ප.ව.2:00 – ප.ව.4:00*
ප්‍රධාන දේශනය ගෞරවනීය භන්තේ හේනේපොල ගුණරතන මහතෙර
සිරිණි කුලරත්න සමරපති (මෙහෙයවීම)

පූජ්‍ය වැලිමඩ ජිනාලංකාර තෙර

පූජ්‍ය යටලමත්ත කුසලනන්ද තෙර

පූජ්‍ය බෝධිචිත්තා තෙරණිය
සිංහල වැඩසටහන 2

අප්‍රේල් 12, ඉරිදා

ප.ව.8:00 – ප.ව.10:00*
සිරිණි කුලරත්න සමරපති (මෙහෙයවීම)

පූජ්‍ය කුරුණෑගොඩ ධම්මාලෝක තෙර

පූජ්‍ය  හන්තානේ ධම්මගවේසි තෙර

පූජ්‍ය වලපනේ විශුද්ධිරතන තෙර
*ඕස්ට්‍රේලියානු නැගෙනහිර සම්මත වේලාව 
In a time of desperation, despair and isolation, Buddhism may provide an antidote, a hope or a path for a meaningful connection. This is an open invite to hear from experienced teachers, intellectuals and practitioners of Buddhism to see what tools and wisdom could be had in dealing with the effects of the current pandemic. This three-day virtual conference is open to Buddhists as well as non-Buddhists to come and seek – find answers for yourself.
Live Panel Discussions
The conference will include multiple live online sessions scheduled at different times on April 10, 11 and 12, 2020. Each session will be roughly 2 hours long and will include a series of prerecorded talks followed by a live panel discussion. Registered participants will have the opportunity to ask questions during the live Q&A sessions. All sessions will be conducted through Zoom remote conferencing service. 
Please register early to be part of this exciting virtual conference!
A Special Keynote by Bhante Henepola Gunaratana
The most venerable Bhante Henepola Gunaratana will deliver a special keynote at the opening of the virtual conference.
සමුළුව ආරම්භයේදී ගෞරවනීය භන්තේ හේනේපොල ගුණරතන මහතෙර විසින් විශේෂ දේශනයක් පවත්වනු ඇත.
Bhante Henepola Gunaratana Mahathera is the founding abbot of the Bhavana Society, USA.  "Bhante G" (as he is fondly called by his students) has written a number of books, including the now-classic meditation manual Mindfulness In Plain English and its companion Eight Mindful Steps to Happiness.  [more at Bhavana Society]
The Conference will feature a number of distinguished speakers from different backgrounds illuminating on the core theme from different perspectives.
Bhante Sujato
Lokanta Vihara, Sydney, Australia
Bhante Sujato, ordained as a Theravada Buddhist monk under the Thai Forest Tradition over 25 years ago. Bhante is a sought-after meditation teacher in Australia. From 2015 to 2018 bhante lived in isolation and translated the complete Pali Sutta Pitaka to English which is freely available on SuttaCentral, a website for early Buddhist texts, translations, and parallels. 
Sarah Napthali
Author, Sydney, Australia
Sarah Napthali is the author of the Buddhism for Mothers series of five books which address applying Buddhist teachings to parenting and which have been translated into more than ten languages. Her working life has ranged from teaching English as a Second Language and corporate training, to human rights activism and interpreting. Now that her children are grown she continues to endeavour to apply the Dharma in daily life, particularly in her current job as a social worker. 
Ven Hantane Dhammagavesi
Dhamma Vihara Buddhist Center, Biyagama, Sri Lanka
In 2012, Ven Dhammagawesi hosted the Pateebha religious program on Sri Lankan TV as a novel e-adventure to see Dhamma through the Tripitaka. The program later received multiple national awards in recognition of the contribution to the television programming in Sri Lanka.
Jeni Thornley
Documentary filmmaker, Sydney, Australia
Jeni Thornley is a documentary filmmaker, writer and film valuer. Her poetic essay documentaries, 'Island Home Country', 'To the Other Shore', 'Maidens' and the collaborative feature 'For Love or Money: a history of women and work in Australia', are landmark films in Australian independent and feminist cinema. Jeni is a Research Associate in the School of Communication, UTS and producing 'memory film', a documentary based on her archival Super8 collection. Jeni is also a mother, a grandmother and a volunteer mentor with Tibetan humanitarian refugees in Sydney. http://www.jenithornley.com/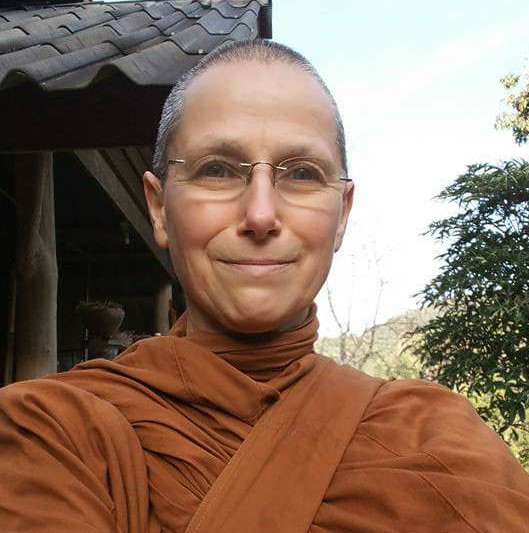 Ven Phalañānī Bhikkhuni
Anenja Vihara, Rettenberg, Germany
Venerable Phalañānī Bhikkhuni born in Duesseldorf, Germany, grew up in Kaarst, Germany, studied in Paris. She was an actress and a comedian, before becoming a Buddhist nun. Ayya Phalañānī has been recognized by the United Nations  as an "Outstanding Woman in Buddhism".
Bhante Suddhaso
Buddhist Insights, New York, USA
Buddhist Monk at Buddhist Insights. Ven Suddhaso lives in New York, New York. From Denver, Colorado.
Bhikkhunī Sudhammā Therī
Charlotte Buddhist Vihara, North Carolina, USA
Ayyā Sudhammā was born in Charlotte, North Carolina, in 1963 and educated at the University of North Carolina and New York University School of Law. She was married and enjoyed a brief career as an attorney in San Francisco, but then encountered the teachings of the Buddha while suffering personal losses that forcefully drove home the truth of the Buddha's teachings on impermanence and suffering. After years of longing to go forth, she found her opportunity at the Bhāvanā Society, where she trained for several years with Bhante Gunaratana. In 2003, Ayyā Sudhammā obtained higher ordination as a bhikkhunī in Sri Lanka, the 1st Western woman to receive bhikkhuni ordination from Sri Lankan bhikkunis. For eight years, she was the resident bhikkhunī at the Carolina Buddhist Vihāra in Greenville, South Carolina. She assisted in the transition at Santi Forest Monastery in 2012, and in 2013 she founded the Charlotte Buddhist Vihāra in her hometown of Charlotte, North Carolina, where she continues to dwell and teach. Last year Ayya Sudhamma celebrated the 20-year anniversary of her pabbajjā—her "going forth" into the saffron robes as a sāmaṇerī.
Ven Heenkumbure Kondañña
Staten Island Buddhist Centre, New York, USA
Bhante Kondañña is a Sri Lankan Buddhist Monk. He received his novice ordination in 1968, his monastic training in Colombo, Sri Lanka, and a BA in Buddhist Philosophy from University of Kelaniye also in Sri Lanka. In 1985, he came to USA to participate and also provide his helpful skills and services at the New York Buddhist Vihara. During that time, the dignified Kondanna began to attend classes at CUNY and now holds a BS in Social Work. Moreover in 1997, he obtained a MSW from Fordham University in New York.
Ven. Kurunegoda Dhammaloka Thero
Connecticut Meditation Centre, Queens NY USA 
Kurunegoda Dhammaloka Thero was born Kegalle district, Sri Lanka. He got his ordination in 1982 and his higher ordination in 1985 from Bhikkhu Training Center, Sri Lanka. He received his primary and secondary education from Maharagama Bhikkhu Training Center and obtained Royal Pandit degree in 1986 and graduated with a Masters degree from Buddhist and Pali University, Sri Lanka. He came to New York Buddhist Vihara, Queens Village, NY in 1998, In 2000 he founded Carolina Buddhist Vihara, Greenville, South Carolina and he is also the founder president of United Sangha Council in 2018 of which the purpose is to make all the Buddhists get together sharing and propagating the teaching of the Buddha regardless of their traditions or languages of practising.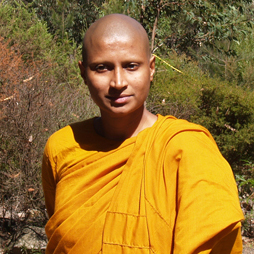 Venerable Bhikkhuni Bodhicitta
Nisala Arana, Melbourne, Australia
Venerable Bhikkhuni Bodhicitta is a Sri Lankan Buddhist nun based in Melbourne. She was an Anagarika in 2006 for almost a year under the Ajahn Chah's Forest tradition before she ordained as a Samaneri in 2007. Even at a tender age of 7, she aspired to meditate in the forest. In 2010, Venerable received her Upasampada in Sri Lanka under the tutelage of Ven. Dr. M. Punnaji Maha Thera, Ven. Prof. Dr. Bhikkhuni Kusuma and several Sangha members in Sri Lanka. Her path of secular higher studies in medicine saw her graduate in BioMedicine. Her career as a Medical scientist in Australia met a surprising turn of events when the Dhamma made her view life in a different paradigm. Thus began her homelessness – a clear and meaningful path of full-time commitment to spiritual endeavour.
Ven. Walapane Visudhiratana
Adelaide Buddhist Vihara, South Australia 
Venerable Walapane Visudhirathana ordained 8 years ago in Maradankadawala, Anuradhapura District, Sri Lanka. His preceptor is Venerable Kolabisse Wimukturatana Nayaka Thero. Currently, Venerable Visudhirathana is one of the resident monks in Adelaide Buddhist Vihara, Crafers, South Australia. Venerable Sumedho is the abbot of Adelaide Buddhist Vihara.
Ven Galkande Dhammananda
Walpola Rahula Institute, Kotte, Sri Lanka
 Dhammananda Thero heads the Walpola Rahula Institute for Buddhist Studies where educational and training programs are offered for religious leaders and lay persons with an aim to support social healing. He is a full-time lecturer attached to the Department of History, University of Kelaniya, Sri Lanka. Dhammananda thero is actively engaged in issues related to social justice and harmony that promotes an inclusive plural society. He has been actively using social media to propagate the message of nonviolence during resent interreligious and interethnic conflicts in Sri Lanka.
Ajahn Brahmali
Bodhinyana Monastery, Perth, Australia
Ajahn Brahmali was born in Norway in 1964. He first became interested in Buddhism and meditation in his early 20s after a visit to Japan. Having completed degrees in engineering and finance, he began his monastic training as an anagarika (keeping the eight precepts) in England at Amaravati and Chithurst Buddhist Monastery.
After hearing teachings from Ajahn Brahm he decided to travel to Australia to train at Bodhinyana Monastery. Ajahn Brahmali has lived at Bodhinyana Monastery since 1994, and was ordained as a Bhikkhu, with Ajahn Brahm as his preceptor. Bhikkhu Bodhi who translated most of the Pali Canon into English for Wisdom Publications called him one of his major helpers for the recent translation of the "Numerical Discourse of the Buddha". He has also published two essays on Dependent Origination and a book called "The Authenticity of the Early Buddhist Texts" with the Buddhist Publication Society in collaboration with Bhante Sujato.
Venerable Bhikkhuni Tathālokā Theri
Dhammadharini Vihara,  California, USA
Venerable (Ayyā) Tathālokā is an American-born member of the Buddhist Monastic Sangha. She entered monastic life more than thirty years ago, and received full bhikkhunī upasampadā ordination with the Sri Lankan Sangha in California in 1997, with the late Ven. Havanpola Ratanasāra Mahāthera as preceptor. In 2005 she cofounded Dhammadharini Support Foundation together with the first monastic community for Theravāda bhikkhunīs in the Americas. Inspired by Buddhist Forest traditions, in 2008, she cofounded Aranya Bodhi Hermitage on the Sonoma Coast, and later Dhammadharini Monastery in the Sonoma Mountain area of Northern California. In 2009, she became the first contemporary western woman to be appointed a bhikkhunī preceptor. Ven. Tathālokā first received instruction in Mindfulness and Insight practices at age ten, later studying and training with Indian, Korean, Thai, Sri Lankan and Burmese meditation teachers, including the Thai forest traditions emerging from the most venerable Ajahn Mun Bhuridatta and the Burmese Vipassana meditation masters Sayadaw U Pandita and Pa-auk Sayadaw. Her practice and teaching are profoundly influenced by the Buddha's teachings as contained in the canonical Early Buddhist suttas, together with the teachings and practices of Forest and Insight meditation traditions.
Ven Tapovanaye Sutadhara 
Thapovanaya Intentional Buddhist Centre, Ventura, USA
Bhante Sutadhara (Bachelor of Buddhist Textual studies), B.A.(Sri Lanka), M.A.(Hawaii) is the director of Ventura Buddhist Study Center, USA. Venerable Sutadhara entered the order of Buddhist Monks as a novice in 1966, at Tapovanaya Buddhist Monastery, Mulleriyawa-New Town, Sri Lanka Before leaving Sri Lanka Venerable served as a Senior Lecturer at the Department of Linguistics, University of Kelaniya,
Bhante Saranapala
West End Buddhist Temple, Toronto, Canada
The Urban Buddhist Monk & Global Mindfulness Meditation teacher Founder and President of "Canada: A Mindful and Kind Nation", Bhante Saranapala, has been honoured with the "Canada 150 Medal and Sesquicentennial Community Award" from the Government of Canada.
Bhante (Dr) Pemaratana
Pittsburgh Buddhist Centre, Pittsburgh, USA
Bhante Pemaratana holds a bachelor's degree with first-class honours in Buddhist Studies from the University of Peradeniya, Sri Lanka and a master's degree in philosophy from the National University of Singapore. Amongst the places he has lectured are the University of Peradeniya and the Buddhist and Pali College of Singapore. He received his Ph. D. in Religious Studies at the University of Pittsburgh in April 2017. He is currently the chief abbot of the Pittsburgh Buddhist Center. He offers workshops on meditation at the Pittsburgh Buddhist Center and Yoga studios in the greater Pittsburgh area and provide spiritual counselling to help people to deal with challenging issues of life.
Bhante Jinalankara
Dhamma Gavesi Meditation Centre, Wellington New Zealand
The Dhamma Gavesi Meditation Centre (DGMC) was established under the leadership and guidance of Bhante Jinalankara with the pure intention of rendering Dhamma services to those who have interest towards the teaching of The Buddha.
The Centre provides spiritual guidance to all alike by way of conducing regular Dhamma discussions, meditation sessions, question and answer sessions and retreats at the venue; visiting other locations by invitation; discussions by way of remote access; for the mere purpose of enlightening the lay community with The Buddha's message through compassion.
Ven. Yatalamatte Kusalananda
Walpola Rahula Institute, Kotte, Sri Lanka 
Yatalamatte Kusalananda Thero is a Sri Lankan Buddhist monk who holds a bachelor's degree in Buddhist Studies from the University of Peradeniya, Sri Lanka. Further, he mastered Buddhist counseling (MA in Buddhist Āyurvedic Counseling – University of Kelaniya) and served as a Counselor at the Ministry of Social Service and at the Counseling Unit of National Institute of Education (NIE), Government of Sri Lanka. He has worked as the Abbot of Sri Purwaramaya monastery at Battaramulla for 9 years before joining to Walpola Rahula Institute. Currently he is doing research on Metta (Loving-kindness) meditation to develop that meditation practice as a healing tool for social healing while developing the research and publication division of the Walpola Rahula Institute.
Giles Barton
Giles Barton was introduced to Buddhism while working at the Home for Incurables in Adelaide 1984. He has lead classes and workshops on Buddhism and Meditation for a few years, recently on using meditation to cope with or recover from traumatic experiences.  He has post-graduate degrees in child and adolescent development, mental health and spirituality.
Ayya Yeshe
Ayya Yeshe is has been a monastic for 19 years. She is a contemplative, international teacher and director of Bodhicitta Foundation India, a charity helping poor Indian Buddhist people oppressed by caste in Central India. Ayya Yeshe is also founding a monastery in Tasmania – Bodhicitta Dakini Monastery. She is the author of 'Everyday Enlightenment' published by Harper Collins. Her sacred chants with the Spiritual music group India Jiva have 90k hits.
Sirini Kularatna Samarapathi
Sirini Kularatne-Samarapathi is a Sri Lankan born Theravada Buddhist practioner currently living in Melbourne, Australia. She is a Clinical Supervisor and a Counsellor working with mindful awareness therapies. Sirini has 12 plus years of experience in evidence based psycho-somatic work which aligns with Buddhas's teachings of Four Foundations of Mindfulness
While registration is free, please register to take full advantage of the online conference by becoming a live participant. Registered participants will have the opportunity to ask questions from the expert panel during the live panel sessions. Registration enables us to make the conference as lively and engaging as possible while maintaining safe social distances! 
Register early to avoid disappointment.  
Fri, 10 – 8:00AM-10:00AM AEST*

Sat, 11 – 8:00AM-10:00AM AEST*

Sun, 12 – 8:00AM-10:00AM AEST*

Free Registration

Access to all morning sessions

Live Q&A participation

Limited seats available
Fri 10 – 8:00PM-10:00PM AEST*

Sat 11 – 8:00PM-10:00PM AEST*

Free Registration

 Access to all afternoon sessions

Live Q&A participation

Limited seats available
ඉරිදා, 12 – ප.ව.2:00-ප.ව.4:00

ඉරිදා, 12 – ප.ව.8:00-ප.ව.10:00

ඕස්ට්‍රේලියානු නැගෙනහිර සම්මත වේලාව*

සියලුම සිංහල වැඩසටහන් සඳහා

නොමිලේ සම්බන්ධ වන්න

සජීවී ප්‍රශ්නෝත්තර සහභාගීත්වය

සීමිත ආසන සංඛ්‍යාවක් පමණි
*All times are indicative only and in Australian Eastern Standard Time (AEST). The organisers reserve the right to cancel, re-schedule or add new sessions. Registrations are limited and on a first-come-first-served basis.
Please register to be part of the Live audience. Registered participants will be given a direct link to join the live panels and will have the opportunity to take part in the Live Q & A session with the panellists.